About Jukikai 呪鬼会
---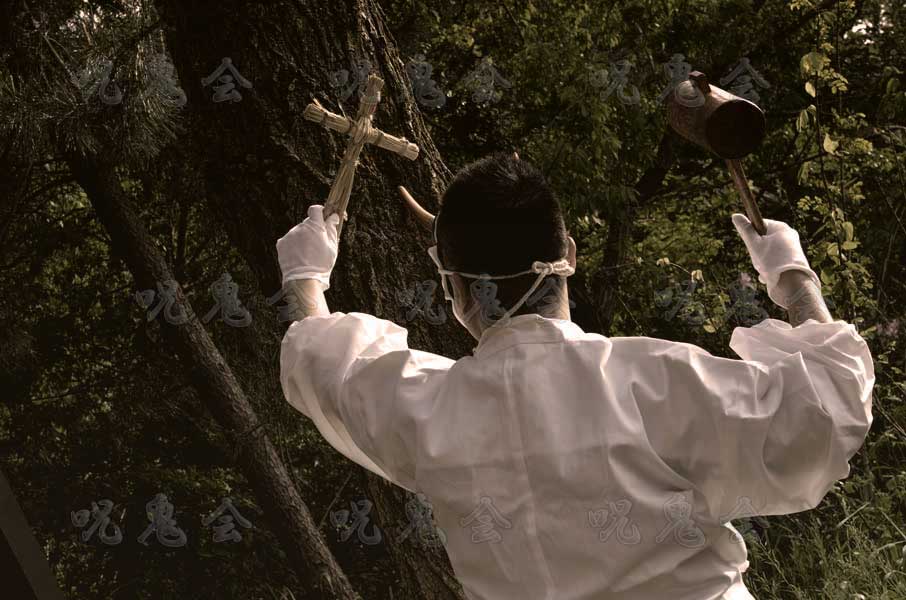 Japan Curse Association JUKIKAI 呪鬼会
Japan Curse Association JUKIKAI isn't related any religious organizations. Besides,we take a neutral stand on any political parties and ideologies.
We have been researching about the energy of the human passion,especialy negative feeling generally called ,curse, in japanese, NOROI,how it is afecting someone whom would be cursed.
Currently we are instructing people to utilize to make your life better as the professional shaman and helping to solve the spiritual problem by the curse,Noroi in Japan.
Our biggest purpose is to make the human society better by curse.
About our activity.
We are offering the Cursed straw doll kit which you can put a curse by yourself as part of the study of curse. Furthermore we introduce how has been done a japanese traditional curse in the history.
However,we take no responsibility whatever happens if you try it. Once again,we DO NOT take responsibility about our content.
If you would like to put a deadly curse on someone,we strongly recommend you ask the professional shaman. Because,to put a curse by inexperienced makes the high risk reaction on someone who have done it. We call it NOROI KAESHI,the harmful effect of curse. You need to do exorcism by the professional.
The curse ceremony is done by Ushi no koku mairi which has been done in A.D.800,HEIAN period. It is to be effective without regard for nationality,religion,sex.
Do you believe the curse?
The curse is familiar action in human being.
…Gudges, Jealousy, Envies, Dishonesty, Injustice, Unfairness…
When you feel them,you never think that you would like to revenge on it?
Otherwise you don't hope that anyone meet with misfortune in your mind?
Or Just shout out simply…FXXK…it would have been already the curse.
Don't forget.
When you gaze into the abyss, the abyss gazes into you.
When you hope someone's unhappines.You are also reciving the negative effect of the curse.Use it on your own responsibility.
If you have any trouble,we will accept gladly it.
Inquiries are free of charge for 24 hours.
About Curse/Noroi呪い
---

The Curse's history is is human history itseThe Curse's history is is human history itself.
Surprisingly knowing,Peking man used the curse in his daily life more than 500.000 years ago.
Since burying,they put red iron powder aside from the dead.It is said that would be the primative curse.These actions had been changing for long term,but also still keep the primary purpose in the present day.
The curse's primary purpose is that is given something spiritual power in nature through the magic word,spell,spiritual utensil and ceremony,to control it. If one were to say,it is the tecnology of Integration with God.
Originally, making a sacrifice to God for praying for a good harvest,pray for rain,recover from an illness , the play since long time ago is changed as curce with unique word which had changed as spell in each time.It must be the primitive origin of the curse.
However,do you think that curse does not exist more in the 21st Century, furthermore you deny the existence of the curse nothing at all?
According to the research,70 percent of japanese still believe existence of curse even now.
What make people fascinate? The reason why is that when people are eager to realize a dream,feel an emotion such as ambitious it may be to generate the spiritual power from your heart.
It is considered one of curse's effect from the viewpoint of psychology as well.
Ushi no koku mairi(丑の刻参り)
The straw doll we offer is bing used as the item of curse ceremony in various scenes in Japan with highly reputation.
Because,our curse is the last resort to resolve the problem of human relationship lawfully and effectively.
We can put a curse someone who you want to do it on your behalf.
We have the professional shamans who have the high experience about curse.
Until now,since we started it in Japan in 1960, more than 10.000 achievements.
Curse service
---

About our services.
Japan Curse Association JUKIKAI isn't related any religious organizations. Besides,we take a neutral stand on any political parties and ideologies.
We must treat personal information with care. Personal information will be deleted after a certain period of time.
We promise that we never overcharge you that we suggest on the site.
We provide and guarantee total after-sales services. If you have any question about our service,you can ask with no charge.
What is curse services?
e put a curse on someone whomever you want for you as the curse agent service. It works on the problem of immorality,infidelity and unrequited love. Incredibly effect!Listen to true testimonials.
We gain highly recognized by our customer since we have established in 1960 in Japan. We are proud of being chosen as one of the top professional group. We hope that we would be able to help someone by the power of NOROI/curse.
It works on the problem of immorality,infidelity and unrequited love.
Our service,curse would be working for not only revenge,also for something positive such as restore a personal relationship with your family,friends.
If you are not sure what plan is proper,contact us. The person in charge will answer as possivle as fast.
| | |
| --- | --- |
| The plans |   |
| A representative Mr MUNAKATA ceremony | 300.000yen |
| Gomadaki (the Buddhist rite of burning wood sticks) | 100.000yen |
| Ohyakudo-mairi (ritual of visiting and praying at the same shrine a hundred times) | 50.000yen |
| Worship in the sacred mountain | 30.000yen |
| Sacred ritual | 20.000yen |
Contact Us